Luke Hughes had the challenge of transforming the well-used but poorly organised student library at City of London School. Design objectives included not only making the library brighter and more comfortable for study, research and recreational reading, but also to offer more flexibility in the library's teaching spaces. Equally, the library refurbishment offered the opportunity to open up some of the astonishing vistas across the Thames towards the iconic surrounding landmarks including Tate Modern, directly across the water.
Within the library, the main reading areas had suffered from excessive solar gain, with the majority of the library furniture positioned along the large, south facing windows. The stunning views from the windows were also obscured by excessive clutter, creating dull spaces deeper within the library. Resolving these was central to our design of the library refurbishment.
The custom academic reading desks are equipped with integrated reading lights, providing the students with a comfortable space for extended periods of private study. All power and data provision is incorporated into the design, and is concealed below cable flaps. All power sockets, data ports and charging points are readily changeable as future technological advances may require. Once an inefficient space, the library has now been transformed into the unmistakable heart of school life. It is now the central focus of academic pursuit, digital learning, group study and collaborative teaching, and expertly utilises adaptable, seamless design.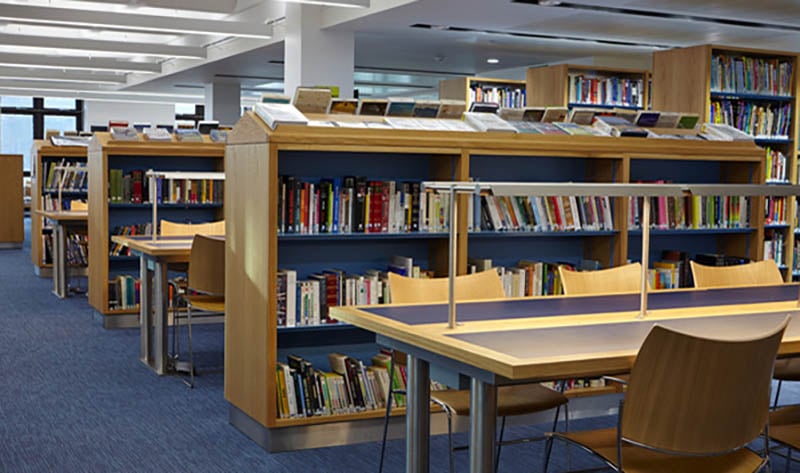 For more information:
Enjoy the article? Delve deeper into Luke Hughes & Company's place in the Arts and Crafts tradition with the fascinating new book 'Furniture in Architecture' . Available through Thames & Hudson