We were delighted to be commissioned to design and supply the public seating which was 24 curved and straight upholstered benches for Yale School of Management's new Edward P. Evans Hall.
The building, a massive 26,600 sq m (286,000 sq ft), is a signature piece by Foster + Partners architects, built on five floors around a central courtyard with distinctive curving glazed facades and 16 idiosyncratic, iridescent, double-height blue 'drums' housing the teaching and lecture rooms.
But spaces where students can gather need public seating and university furniture – which was a problem, as Yale's then Associate Director of Planning and Design, Mark Francis explained. Foster + Partners, whose eponymous principal studied at Yale, had designed upholstered bench seating to go into the New Haven building's curved enclaves, but Francis couldn't find a manufacturer in the US to make it for less than three times his budget.
The leather we selected was also influenced by the car industry. Furniture upholstery tends to be soft and floppy, but that would not have been at all appropriate for this project. These seats had to take people sitting down, putting their computers or cups of coffee on the seat beside them, perching on the central backs; the pieces had to withstand severe punishment and look new for decades to come. For that we needed to create firm, well-structured upholstery, with good stitching and much more durable leather from the automotive and aircraft industries.
For more information: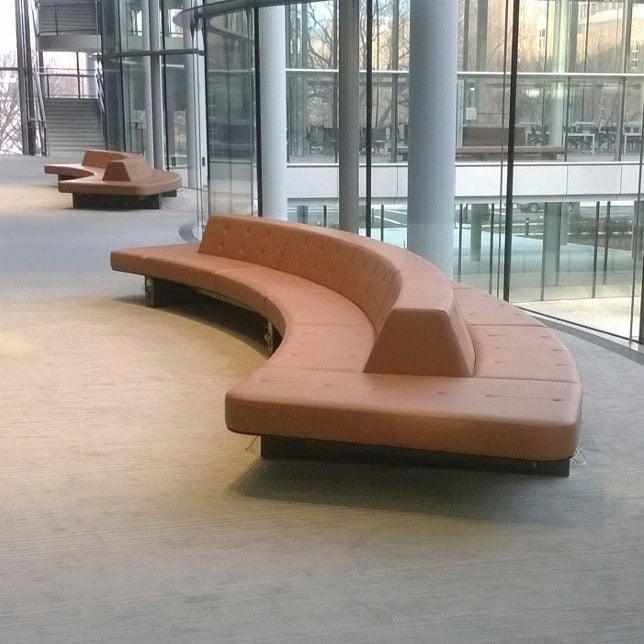 Enjoy the article? Delve deeper into Luke Hughes & Company's place in the Arts and Crafts tradition with the fascinating new book 'Furniture in Architecture' . Available through Thames & Hudson