Homerton College
features one of the finest modern examples of a college dining hall - a soaring, majestic space, with triple-height ceilings, brilliantly contrasting and complementing the surrounding 19th century Arts & Crafts architecture. In the words of Lord Simon Woolley, the Principle, 'Our new dining hall is a beautiful beacon which from the outside speaks to our ambition and values, and on the inside provides space for our students, fellows, staff and guests to have conversations, debates, music, theatre and of course, fine dining, all under this magical roof.'
Interior
Homerton College's dining hall is undeniably and purposefully distinctive from the exterior; its salmon-pink concrete base and lightly contrasting teal faience tiles harmonise with the red-brick Arts & Crafts buildings that flank it. However, the glistening ceramic mantle also evokes the Victorian architectural trend for such features, perfected in the 21st century by the architectural ceramics fabricator, Darwen Terracotta. The 'butterfly' roof is a statement of modernity, with a conscious nod to the hammer-beam halls of much older colleges.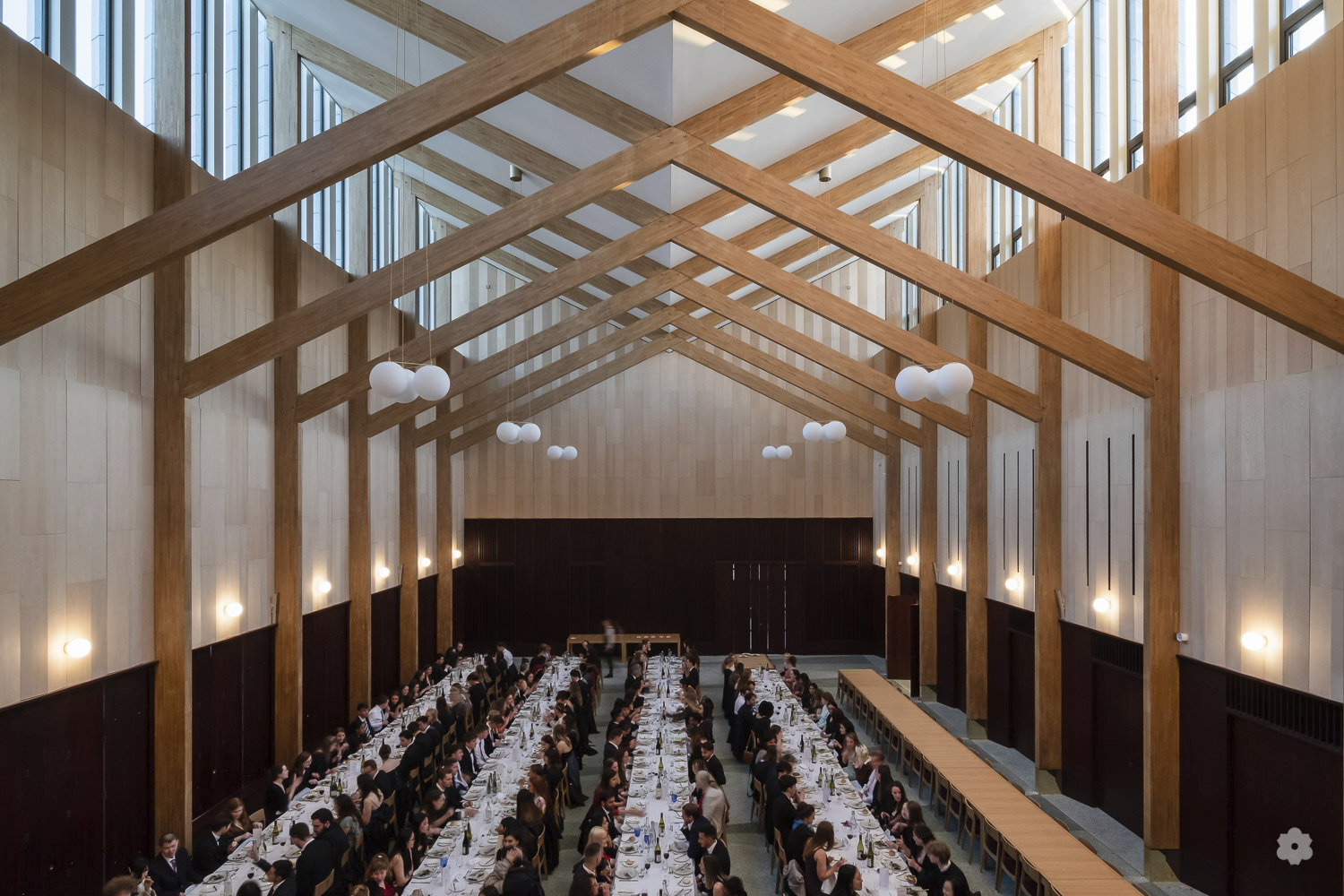 Our products
The Luke Hughes furniture is directly linked with similar traditions from the English Arts & Crafts Movement, combining an authentic approach to design and a commitment to craft, materials, sustainability and longevity. Our task was to design a complete set of dining hall furniture, chairs which stack and tables which fold. In this case, the sweet chestnut glulam timber roof trusses are complemented by the LH-42 stacking chairs and Athena folding tables which can be re-arranged both to encourage conversation with banquet-style dining and also for other communal arrangements.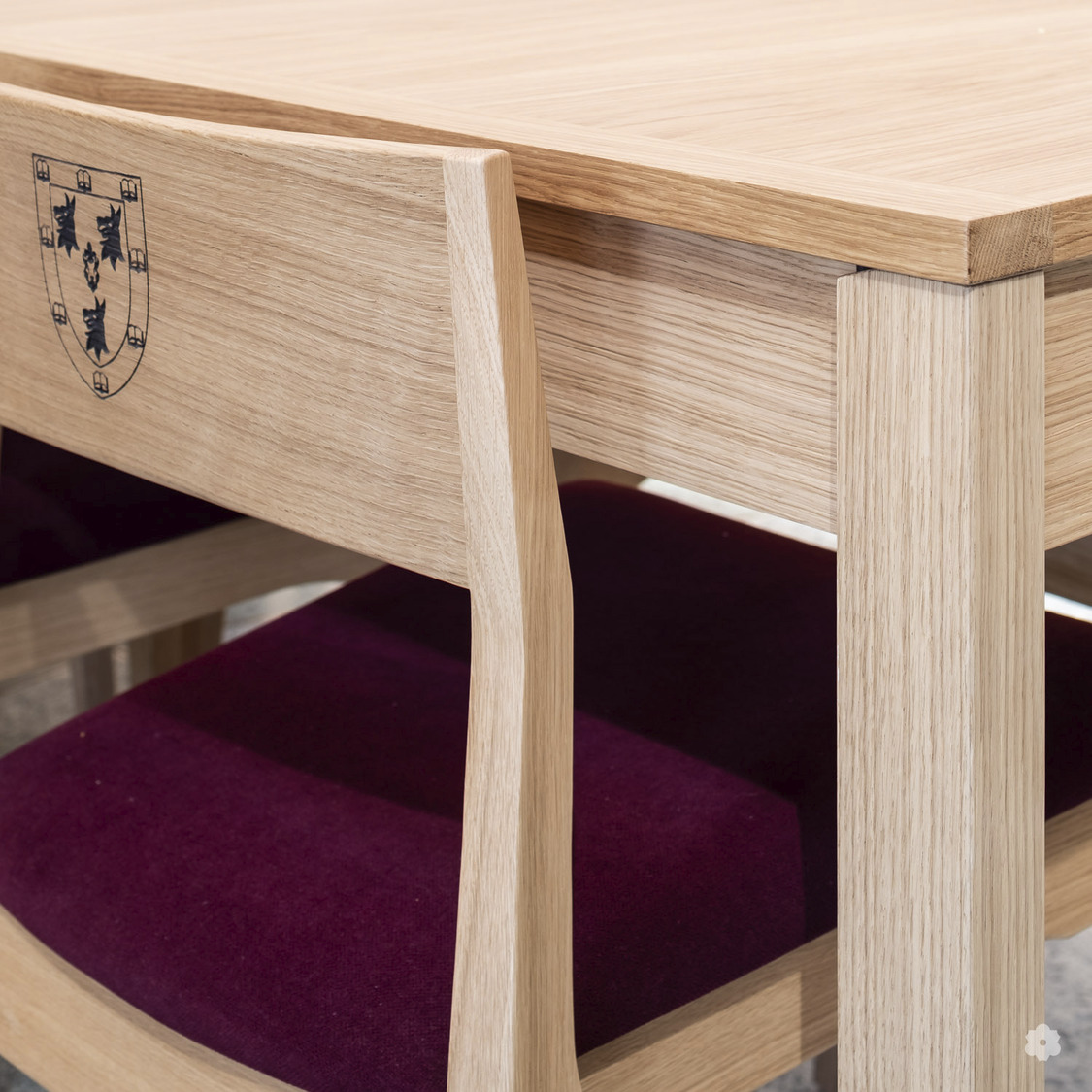 All Luke Hughes' design projects follow the principle that the value of furniture lies not just in the design and appearance of products but in the way it can enhance both the architecture and the lives of those that inhabit it. It should embellish and articulate the space.
The building's design was heavily influenced by principles of sustainability, too. The architects, Feilden Fowles, with guidance from their sustainability consultant, Max Fordham, designed the hall for a 100-year lifespan. In fact, the hall exceeds several environmental sustainability standards and targets, thanks to passive ventilation and its ground source heat pump, reducing CO2 emissions by 40%. The LH-42 dining chairs, are engineered for a 30-50+ year lifespan, as are the Athena folding tables. Indeed, all our furniture is not only designed to be refurbished (rather than replaced) and passed to future generations but also for carbon to be captured for decades.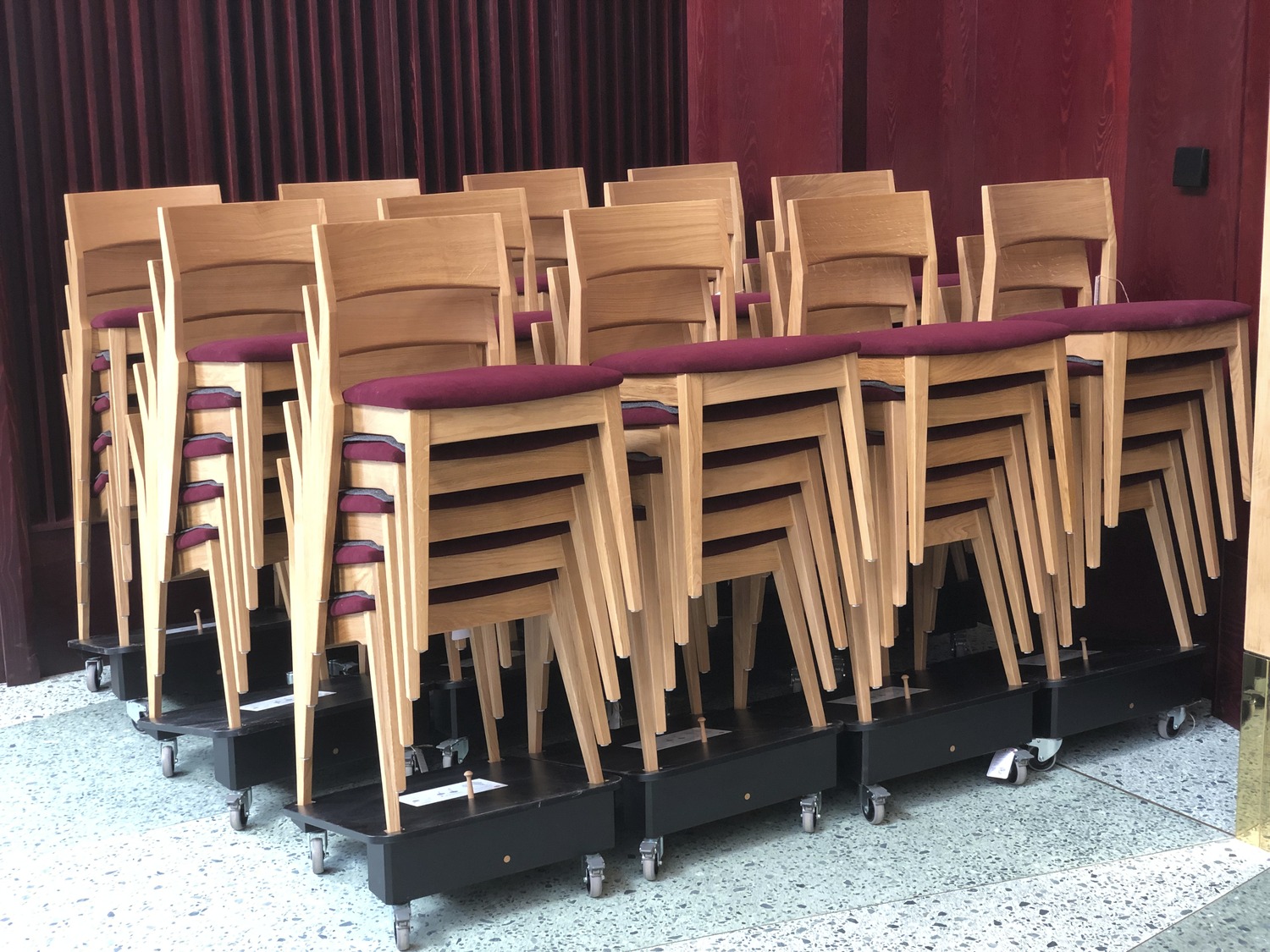 Awards
In November 2022, the building swept the prizes of the Wood Awards 2022, winning the Gold Award for the UK's best new timber building, the prize for Best Education and Public Building and an award for its use of Structural Timber. The judges wrote: 'it celebrates the integrity and inherent beauty of its materials, from its design through to its incredible craftsmanship, and the space creates something which is both welcoming and inspiring to students breath-taking to building professionals, educators, and students alike'.
In March 2023, at the Greater Cambridge Design and Construction Awards 2023 it was voted Best New Building (over £2M), Joint Winner under the Craftsmanship Award and received a Commendation for Engineering and Sustainability. The furniture was described by the Chair of the Judges, Dame Fiona Reynolds, former Master of Emmanuel College and CEO of the National Trust) as 'truly outstanding'.