Designing functional yet beautiful interiors relies on a network of intersecting design principles and subconscious aesthetic responses to the space, the materials and the colours at hand. However, the uniting quality of any particularly appealing interior scheme is how it looks and feels in its architectural setting. Not only does this encompass the scale of the furniture and the colours or materials selected, but also the intuitive use of the space. At home or in public buildings like schools and churches, banquette seating provides some of the most space-savvy solutions when it comes to bringing comfort, storage and flexibility to any space.
What is banquette seating?
Banquette seating or a banquette bench is a seating unit, usually fitted into a nook to create booth seating, positioned against a wall or free-standing as part of a kitchen island or larger piece of furniture. At home, upholstered corner banquettes are popular for breakfast tables in cosy kitchen corners or as window seats, making great use of awkward niches around the home. In commercial properties like restaurants and bars, they provide a great opportunity to add colour and texture with large-scale banquette seating, such as a curved dining banquette or an upholstered banquette in on-brand colours. Today, restaurant banquette seating is often seen with high scalloped or button-backs for impact. With a custom-made banquette, almost any shape or style is possible. The risk a commercial designer takes in the case of introducing upholstery to a high-traffic space is that upholstered banquettes are vulnerable to spillages and stains, so wipe-able fabrics are particularly popular. Much the same can be said for family homes or spaces we use to entertain guests.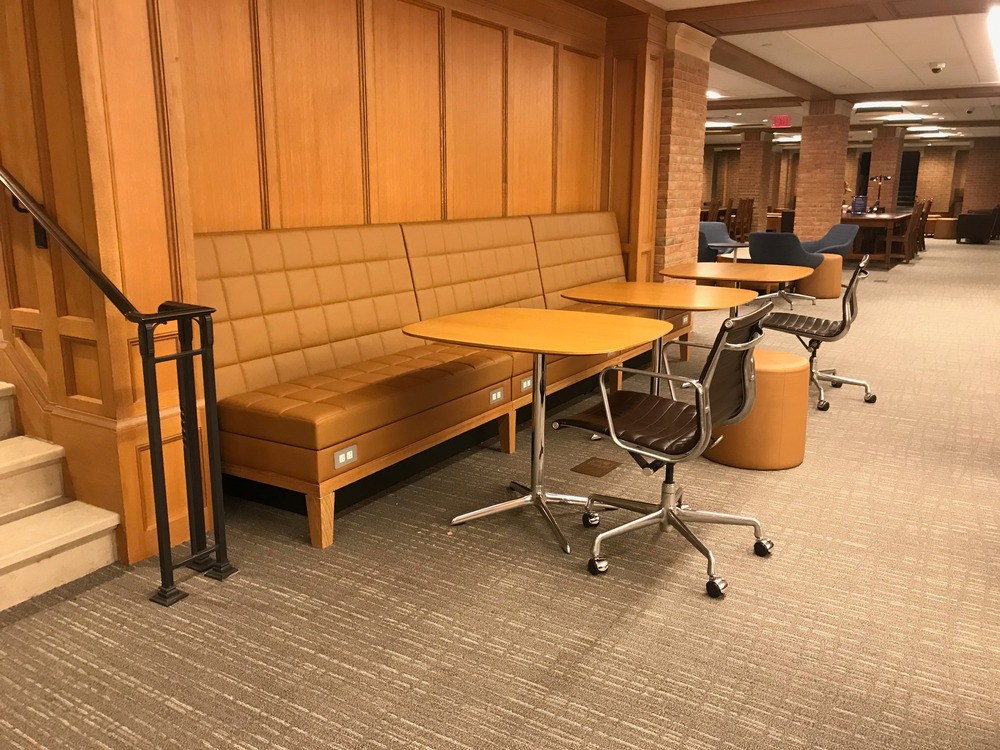 In university buildings or in cultural hubs with high footfall, specifying reconfigurable banquette seating is often one of the best ways to provide guests with comfortable seating without compromising on space or style. In concourse areas or in wide corridors, banquette seating can be positioned along walls or in intuitive ways to allow students and members of the community to sit, converse, read, study or wait for an appointment in a space that feels calm and dignified with enough seating for all. For example, wall-lined banquette seating can be rearranged into rows for readings or recitals with ease in schools or churches, or it can be used to efficiently divide a space for different uses.

How much space do you need for banquette seating?
The beauty of custom-made banquette seating is that you can incorporate it into any space. From little window seats in residential homes to large runs of banquette seating that line the walls in restaurants and bars, there is no one size fits all approach to size or style. Bespoke banquette seating design allows you to work around windows, chimney breasts or other architectural detailing, giving each instance of banquette seating a sense of uniqueness, adding charm and character to the home, office, cafe or commercial lounge area. However, there are some rough measurements to bear in mind. The bottom line is that you can create banquette seating for as many or as few people as necessary, but you should work to around 20 inches of table and seating width per person on average. This will allow each person around the table to dine or sit comfortably when the banquette seating is at its maximum capacity.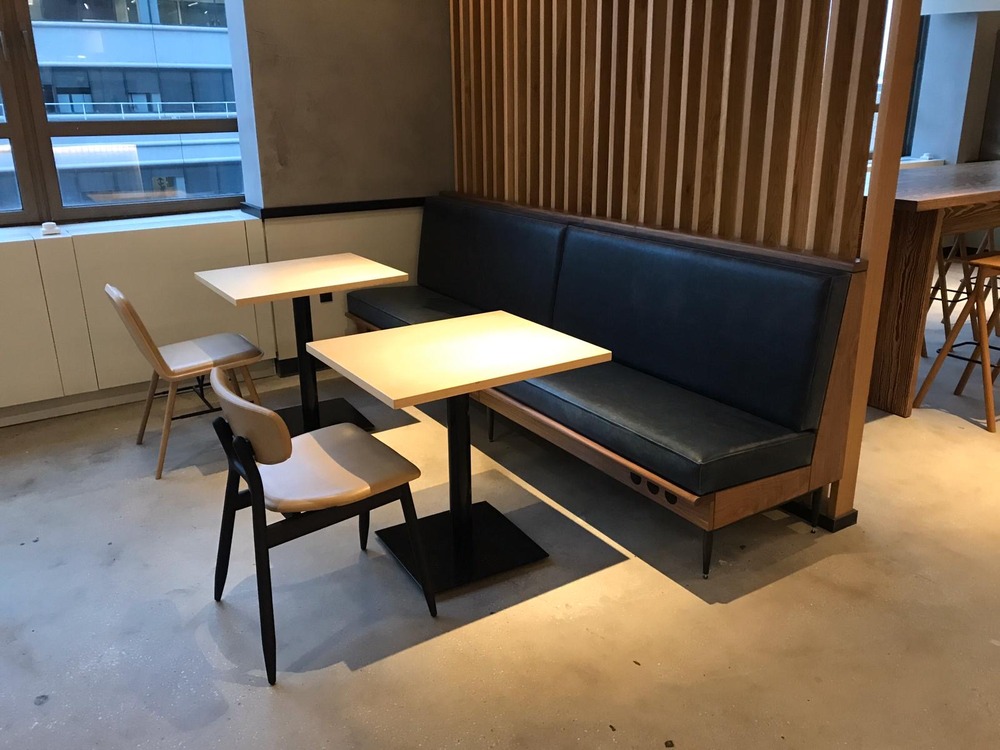 When it comes to the height of the back of your banquette seating, your space allowance will depend on the function your banquette bench will serve. In a dining space at home or in a restaurant or bar, you could get creative with high-backed banquette seating, adding banquette details like buttoning or unique upholstery. For settings like university receptions or study areas, lower-backed banquette benches tend to work best so as not to obstruct views across the space, bringing the room a more reserved, conventional finish.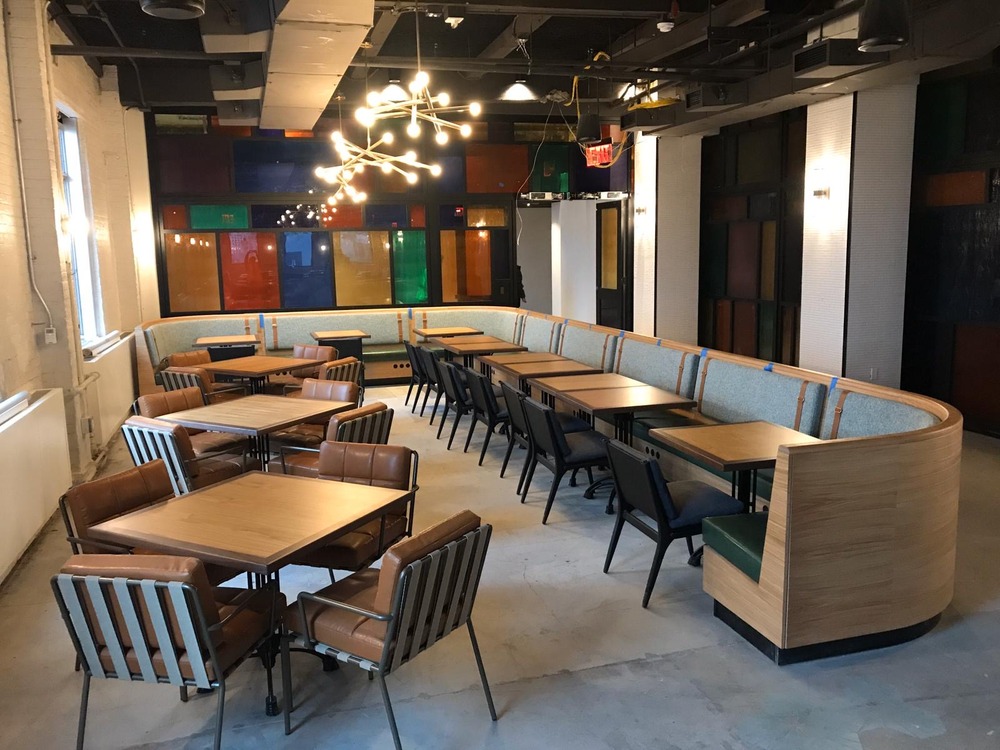 The depth of your banquette seating will also depend on how you envisage the bench in use. At home, a depth of around 20 inches is sufficient, excluding the back support. For a more informal, lounge-style approach to banquette bench seating, increase the depth by a few inches.
Although banquette seating appears to take up lots of room, it can be a far more economical way to seat many more people than with individual chairs. It also adds storage capabilities with under-seat drawers, shelving or boxes to stow away boardgames or wintercoats in the home, or extra cushions and cleaning equipment in commercial spaces.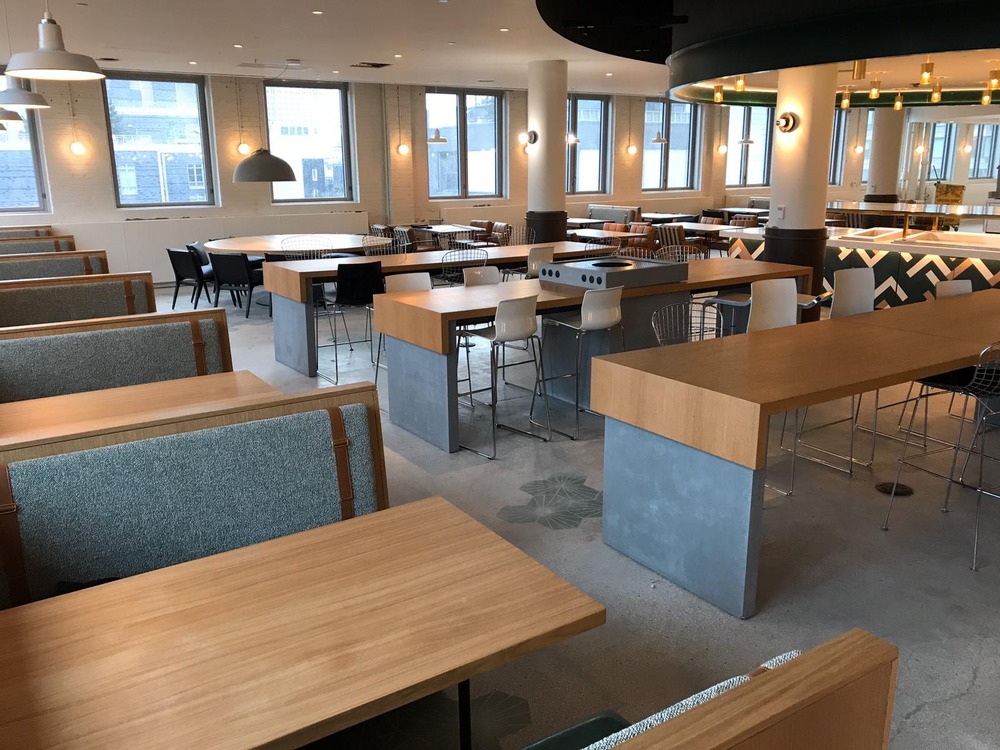 Banquette seating in action
One of the finest examples of curved banquette seating from our portfolio is our work with the Yale School of Management. We created 24 large scale, curved public seating for the school's new Edward P Evans Hall to deliver a space where students can gather on the principle that interaction outside the classroom is just as important as formal teaching. The shape of the banquette seating follows the curved of the courtyard-facing glazing designed by Foster + Partners architects. To make these banquette benches even more relevant and useful to the lives of the students using them, we reconfigured them, integrating power and data outlets at accessible intervals.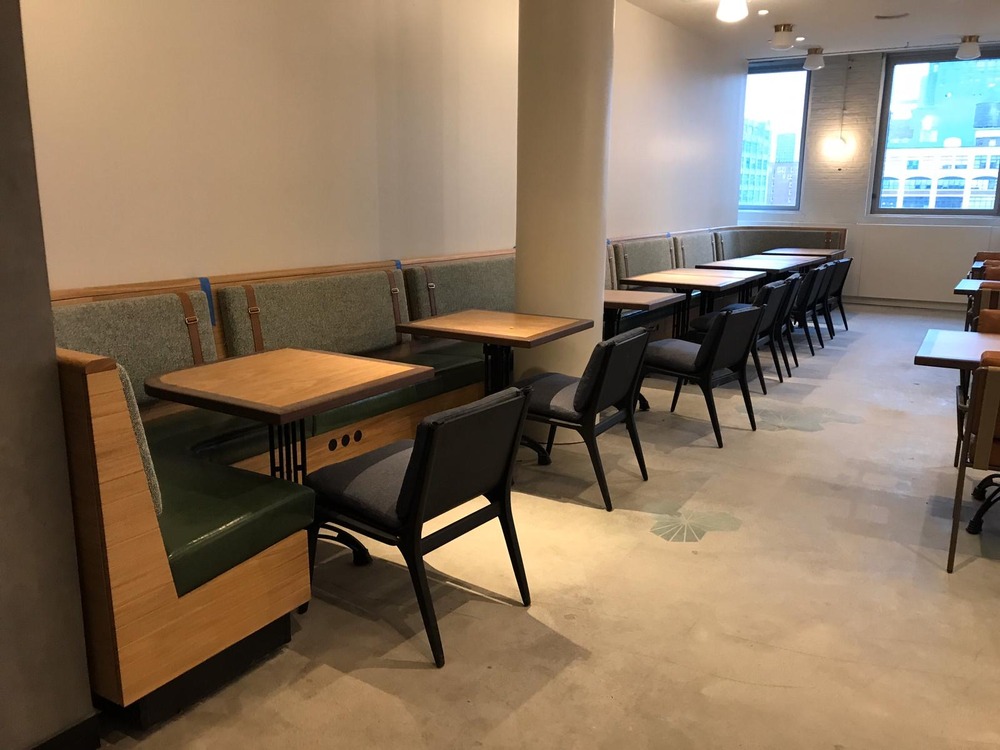 We also worked with Villanova University in Pennsylvania to create public lobby seating for the new RAMSA-designed Performing Arts Centre. With no specific brief, we looked at ways to elevate the space for the students who would be using the large quadrant lobby and smaller interval spaces on the upper-levels of the building. We saw that the building plan was lacking in places for people to meet others and catch up before or after performances. We developed banquette seating for several spaces including sofa-style, modular banquette seating that could be reconfigured to allow the space to function in different ways for different uses. We also delivered curved, modular banquette bench seating to line the walls of a slimmer corridor and that can we linked and relinked in new configurations. The curve of the wall follows the auditorium's circular perimeter, so we designed the reverse-curve, custom made banquette seating to sit neatly against the wall.