London Craft Week 2021 was a celebration of traditional making – in everything from furniture and leatherwork, to cocktails and perfumery. We loved seeing work from all over the world that embraces natural materials, slow pace and careful thought. We were also inspired by talks, tastings and workshops that let us get hands on with new techniques and sustainable innovations. Here are our highlights from the London Craft Week programme.
Outside In at Sarah Myerscough Gallery
The gallerist's bright and welcoming Chelsea space was filled with pieces of craft in organic, sustainable materials. Looking to our past, materials like wood, willow and grasses were given a modern twist by a range of artist-designers who have thought about how to make them relevant for our future. Our favourites were the Cleft Collection benches by Peter Marigold and Tadanori Tozawa, with bases made in Japanese cypress and seats of woven grass. It was also a pleasure to see more unusual natural materials - textiles grown from plant roots, along with rice straw and cashew resin.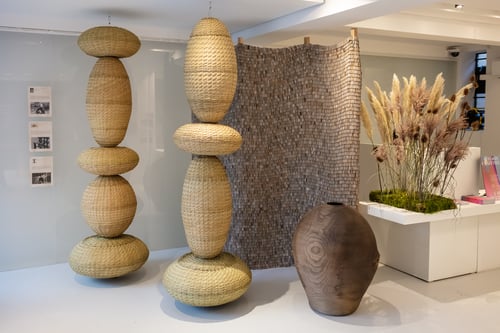 Craft by Residency
In Islington we found this showcase of 14 makers new to the scene, curated by Future Icons. Wallpaper artist Natascha Maksimovic (NAT MAKS) unveiled a tapestry made from offcuts of her signature marbled wallpaper, as well as a fashion range inspired by ancient paper craft. Live demonstrations by needlepoint weaving experts Lark & Bower and Kevin Stamper (who specialises in marquetry) made this small exhibition feel spirited and an exciting look at the generation of makers to come.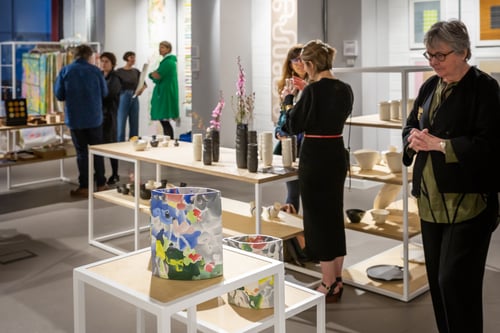 Stories Through Stitches at TOAST Mayfair
Throughout London Craft Week 2021, calligraphy and textile artist Rosalind Wyatt was in residency at the Mayfair branch of clothing shop Toast. Visitors could contribute to a communal mixed media collage on the topical subject of rewilding, by painting, drawing or sewing on fabric remnants or paper. We loved getting to know Rosalind's works that mix language, art, textiles, paper and thread. And the chance to get creatively involved ourselves - making a piece inspired by the natural world that would then be stitched into the overall artwork on view at the end of the week.

Darren Appiagyei at the Garden Museum
Tucked away in the peaceful courtyard of the Garden Museum, this small exhibition by woodturner Darren Appiagyei showcased a variety of hand-woodworking techniques. If you were lucky, you could catch the craftsman himself giving demonstrations of his fascinating work throughout London Craft Week. We loved to see his dedication to working with natural wood and its imperfections, turning knots, splits and other irregularities into opportunities to give his pieces character.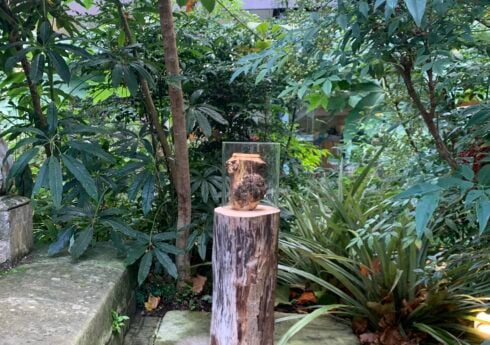 Here Talks
Shoreditch-based creative agency Here Design ran an insightful talks series that let us get close to the craft process and find out about techniques in a range of media. The craftspeople featured included a landscape gardener, ceramic artist, textile designer, chocolate engineer and master perfumer. It was fascinating to hear from such a range of people dedicated to their particular art, and interesting to learn that certain themes – such as storytelling, sustainability, heritage, tactility, and sensual delight – are common to all.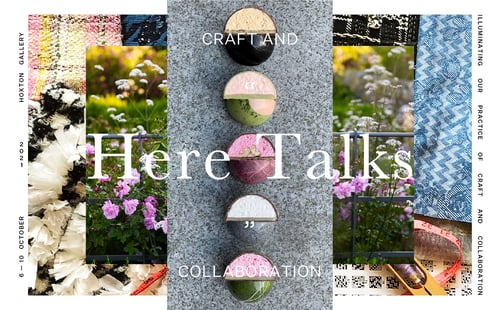 Kasama Potters
The Japanese city of Kasama has a thriving ceramic scene, as evidenced by this exhibition of 34 makers from the region. With travel on hold for so much of the last two years, it was refreshing to see work from the other side of the globe, right here in Islington. The range of glazes, forms, motifs and techniques on show are vastly different but united by the common use of Kasama clay, which connects these potters to their distinct region. You can see British influences in the work too, as this group of artists have spent the past year in dialogue with ceramicists based here.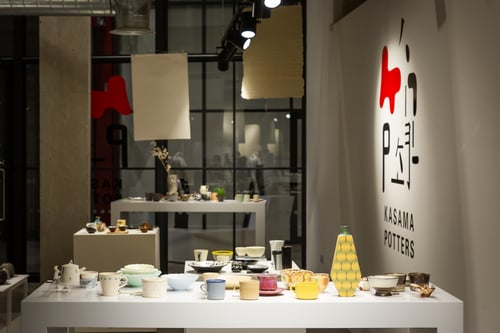 Image credits
Dan Weill: Sarah Myerscough Gallery, Craft by Residency, Kasama Potters
Darren Appiagyei: Darren Appiagyei at the Garden Museum