After the setbacks of 2020, London Design Festival returns with a packed programme of live exhibitions, talks and installations that will cross every corner of the city. From a trade show with a sustainable focus, to a dazzling pavilion in engineered aluminium, here are five London Design Festival highlights on our must-see list.
Planted
This new trade show breaks the mould by only presenting exhibitors with a sustainable focus. Promoting 'cleaner, greener and healthier' spaces, its fresh approach addresses the issues we face now and in the future. As well as browsing the stands for the latest forward-thinking products, materials and textiles, we'll be heading for the Unearthed talk series to hear discussions on circular economics and environmental design. We'll also be visiting Green Grads, the show's selection of sustainable ideas from the next generation of designers.
23-26 September 2021
King's Cross, London
https://www.planted-cities.co.uk/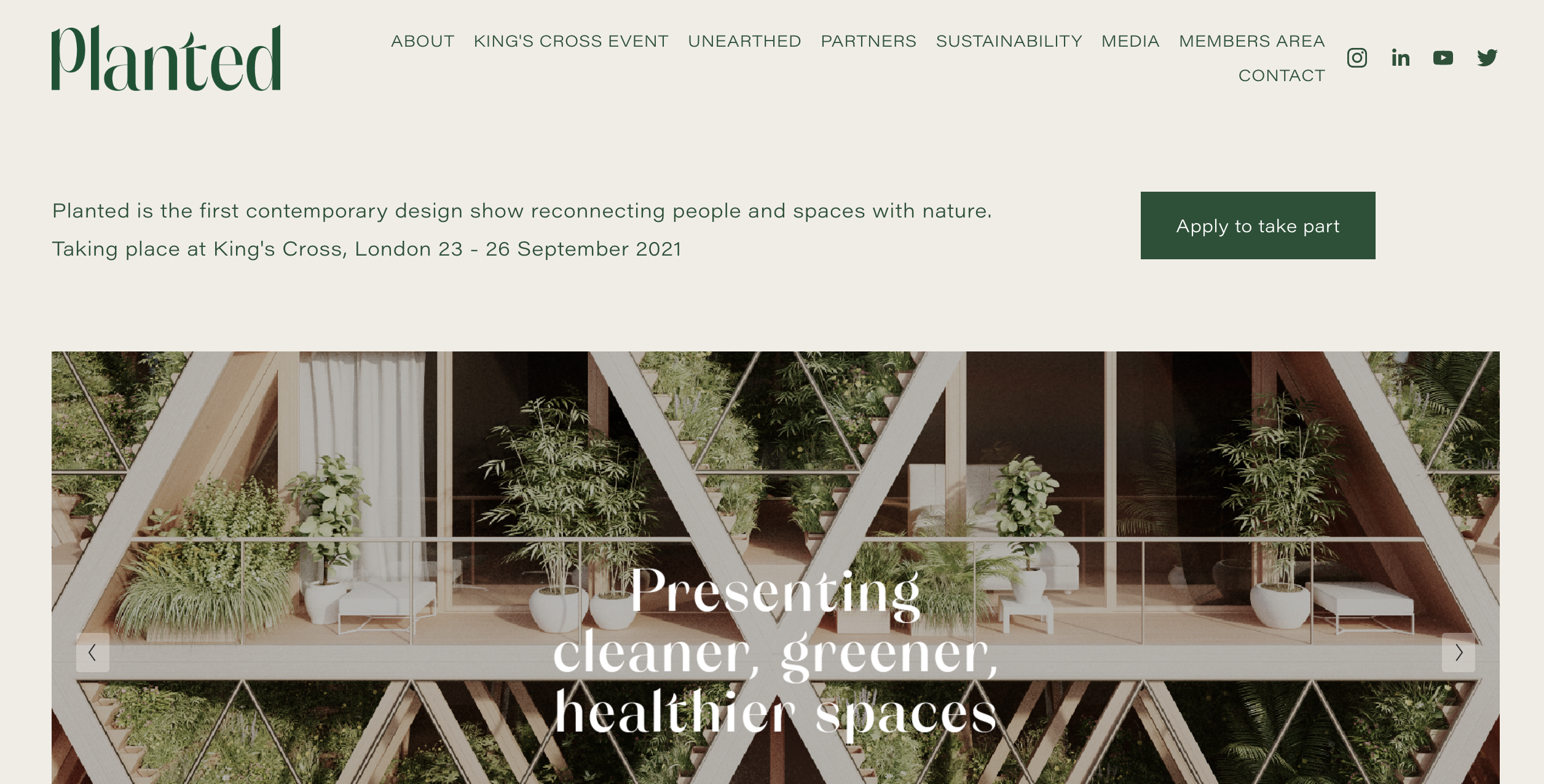 An Act of Making at Yorkton Workshops
Yorkton Workshops – Cassion Castle Architects' reworking of a former Victorian warehouse – won the Architects Journal's Retrofit of the Year prize in March. The Hackney space is home to design studio Pearson Lloyd. The beautifully detailed studio of Luke Pearson and Tom Lloyd's can easily be a cause of envy for any designer without a workshop at hand, but the gallery that forms part of the redevelopment is open during London Design Festival to host an exhibition curated by Modern Art Hire founder Laura Fulmine. Her collection of selected artworks is a celebration of making by hand. Our passion for craft has us excited to see both the exhibition and the building's celebrated combination of materials old and new.
From 21 September
Yorkton Workshops, 1-3 Yorkton Street, London E2 8NH
https://yorktonworkshops.com/project/pearson-lloyd-yorkton-wokshops/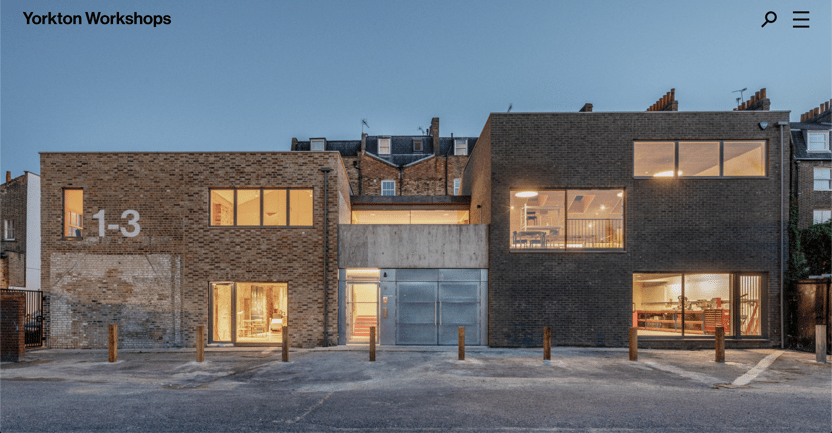 Discovered: The New Generation of Designers
The joint forces of the Design Museum, Wallpaper magazine and The American Hardwood Export Council have made 20 young designers' dreams of exhibiting at London Design Festival come true. The exhibition asks emerging talents from various countries to think about their experiences in the pandemic and create a furniture piece that reflects on our connections with nature and the everyday objects that surround us. The resulting ideas have been made in sustainable US hardwoods such as red oak, maple and cherry as a collection to be displayed in the museum until October.
13 September – 10 October 2021
Design Museum, 224 - 238 Kensington High Street, London, W8 6AG
https://designmuseum.org/exhibitions/discovered-the-new-generation-of-designers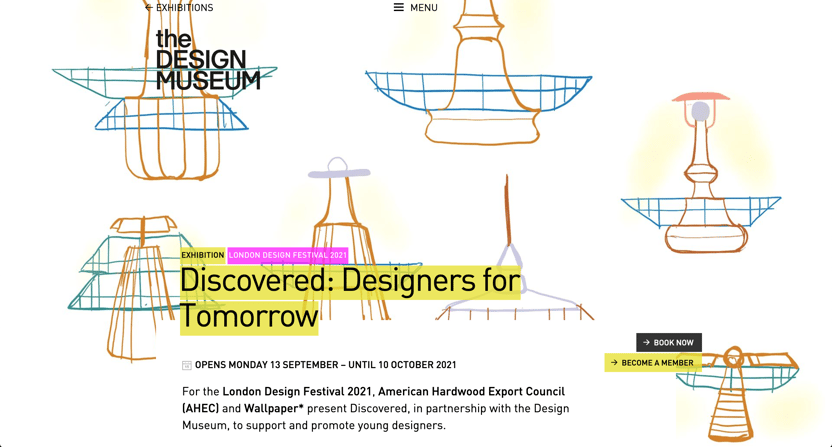 Against the Grain
Curated by Fels and Jan Hendzel Studio, Against the Grain is a show of experimental art and design driven by sustainable processes. The chosen exhibits are sure to surprise: they cross a wide range of media and approaches to manufacture, and include work by both emerging and established names. We're expecting to be enlightened about the unconventional materials and technologies of the future: with examples like Tom Dixon's recycleable Hydro chair in blow-formed aluminium, Oksana Bondar's biodegradable stool made of hair and bioplastic, and Studio ThusThat's products made from the industrial waste of the mining and metallurgy industries.
18-27 September 2021
Copeland Gallery, Unit 9I, Copeland Park, 133 Copeland Rd, London SE15 3SN
https://www.copelandpark.com/events/16329/against-the-grain/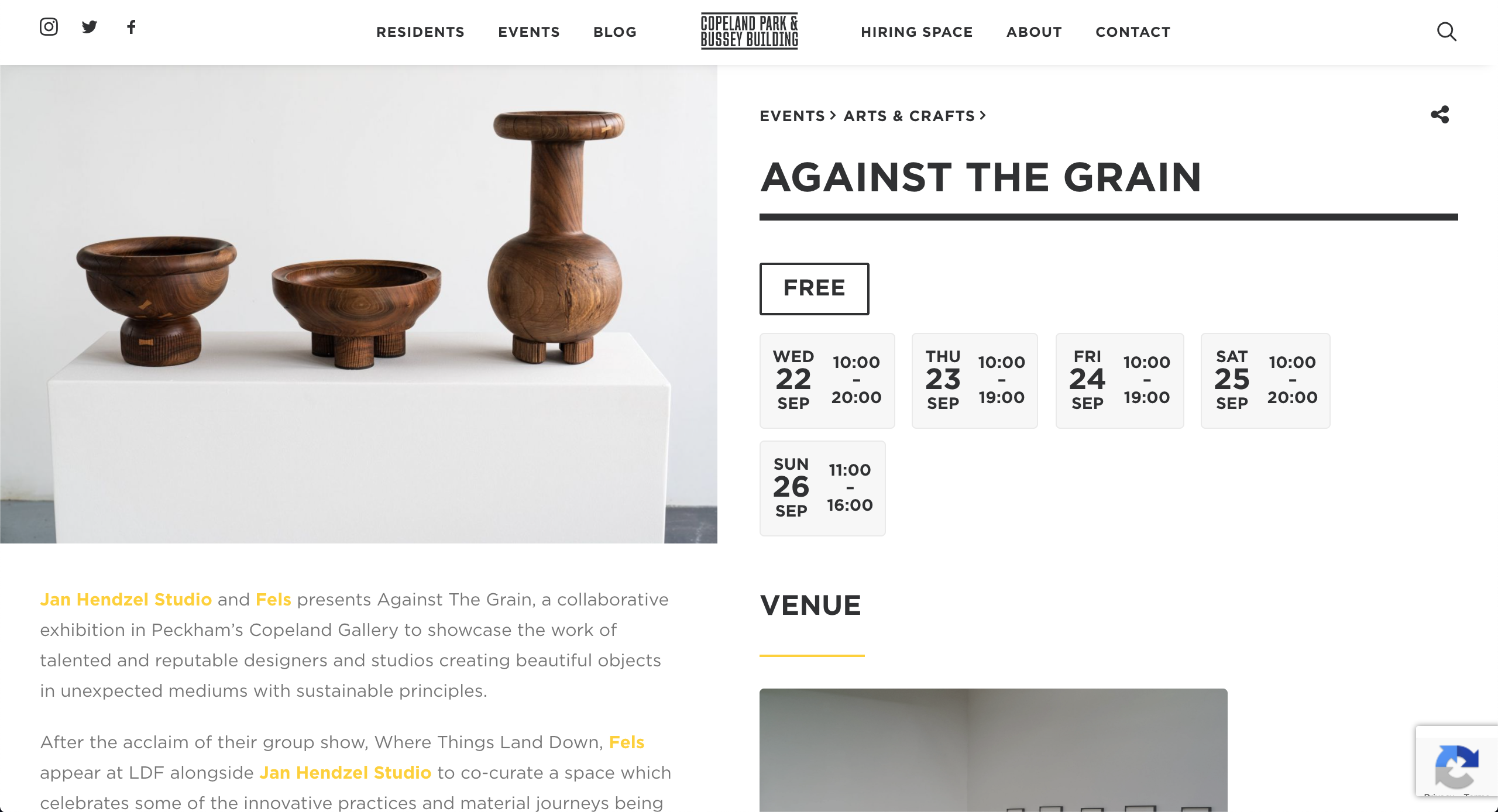 Between Forests and Skies
Multi-disciplinary studio Nebbia Works will create a feat of engineering in the iconic oval pool of the V&A Museum's courtyard. Using strategic cuts and bends, one amazingly thin plane aluminium is turned from two-dimensions into three – a show of what can be achieved with minimal material and construction. The low-carbon self-supporting structure is called Between Forests and Skies, to reference the play of sunlight, strong shadows and reflection it creates through its design. Alongside the installation, the V&A has planned a variety of events to align with the UK hosting the international climate summit COP26, in November.
From 18 September 2021
John Madjeski Garden, V&A Museum, Cromwell Road, London SW7 2RL
https://www.vam.ac.uk/exhibitions/between-forests-skies